How Cmed applies 20+ years' oncology trial experience to help find new therapies
An expert view by Crista Casey, VP, Clinical and Regulatory Operations
Glioblastoma, also known as glioblastoma multiforme or GBM, can be very difficult to treat and a cure is often not possible. It is an aggressive type of cancer that can occur in the brain or spinal cord and it can develop at any age, but tends to occur more often in older adults, and has an average survival rate of 14-15 months post diagnosis1.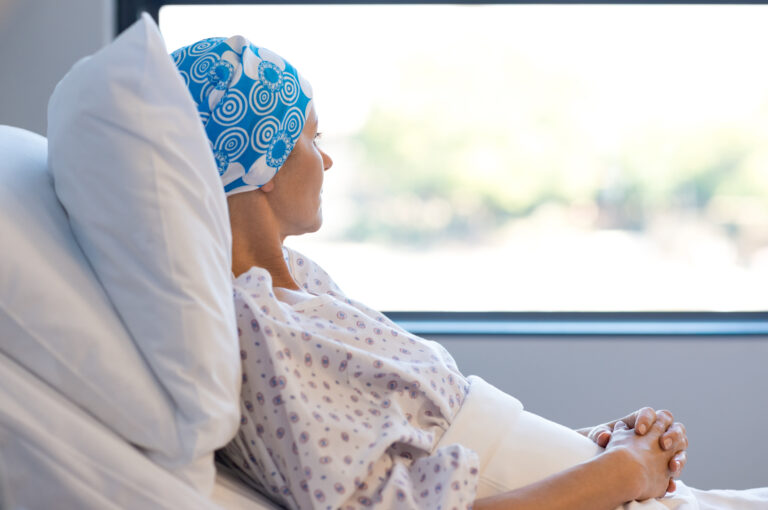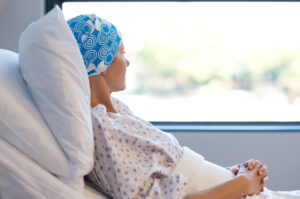 Hearing a diagnosis of GMB can be extremely difficult for any patient and their loved ones, as well as learning that treatments can be challenging. For GBM patients, this means a potential daily life filled with fear, depression, and anxiety, not to mention possible headaches, seizures, and vision and mobility challenges.  These patients do not have much control over the hand they were dealt, so it's important that we continue to deliver well managed trials by applying our vast knowledge and experience when helping sponsors find a treatment for this highly aggressive cancer.
Incidence Rates Are Increasing
The global incidence rate of Glioblastoma is <5 per every 100,000 with the NIH Surveillance, Epidemiology and End Results Program (SEER) estimating there will be 25,050 new cases of brain and other nervous system cancers diagnosed in 2022.  In addition, recently published research suggests the incidence rate of glioblastoma is increasing2. Traditionally, survival from a GBM is less than a year and despite new developments and significant advances, recurrence is often inevitable and survival rates are low with an average life expectancy of less than 6 months after recurrence. The graphs below present survival3 and incidence4.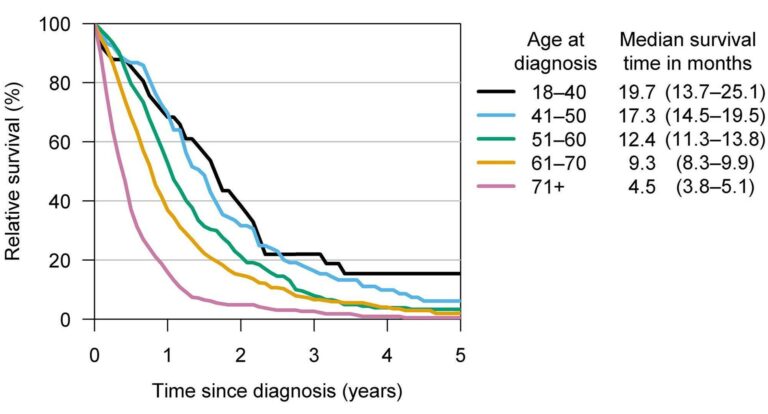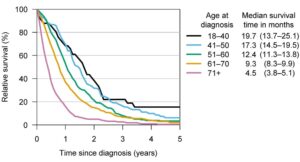 Figure 1 – Median survival times and relative survival rates for different glioblastoma patient age groups. Credit: University of Helsinki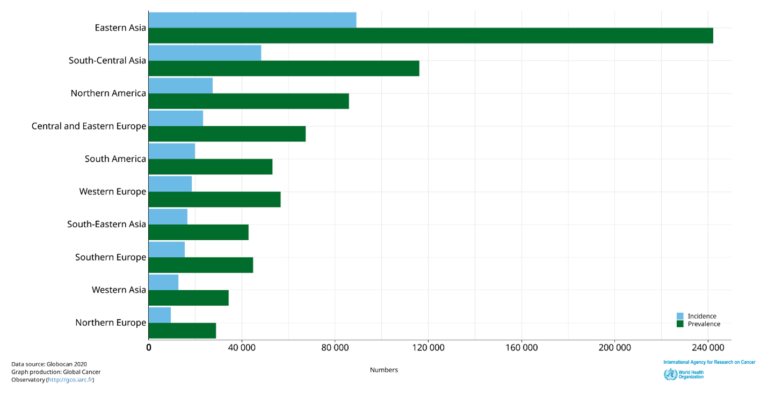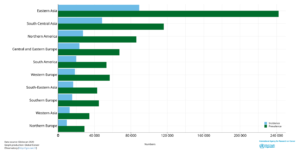 Figure 2 – Estimated Incidence cases and prevalence C70-72 brain, central nervous system cancers in both sexes of all ages. Source Globocan 2020.
Treatment choices are limited with approximately five brain cancer approved therapy options available in addition to radiation, surgery, or stereotactic radiosurgery:
Afinitor®/Everolimus: Approved for subependymal giant cell astrocytoma patients with tuberous sclerosis
Bevacizumab/Avastin®: Approved for Glioblastoma, as a single agent for patients with progressive disease following prior therapy
Carmustine/Lomustine: Approved for glioma patients, and most often used in low-grade gliomas and in recurrent GBM patients. Also approved in form of an implant
Temozolomide (TMZ)/Temodar®: Approved for newly diagnosed glioblastoma multiforme (GBM) concomitantly with radiotherapy and then as maintenance treatment
Optune® (NovoTTF-100A Device): Approved for recurrent and newly diagnosed GBM
Unfortunately, the currently approved treatments are not without toxicity and the majority of therapies available are non-specific, delivering marginal benefit to survival.  This demonstrates the need for development and advancement of new and innovative treatment options in this field.
Potential New Therapies on The Horizon
Current data shows there are 472 products in development, alone or in combination, across 252 sponsors (commercial and academic) with around 300 early phase studies in GBM planned or actively recruiting. With a poor prognosis and limited number of therapies approved specifically for glioblastoma treatment, the indication is ripe for new therapy options. Patient demand, coupled with a growing global market, (the market for GBM in 2020 was estimated at $549.1 million across United States, Canada, United Kingdom, France, Spain, Germany, Italy, and Japan) shows why novel treatment approaches are needed now.
Over the past decade, our neurologists, oncologists, and clinical teams have experienced firsthand shifts in this research space, from the use of GLIADEL® Wafers, first approved devices, recent oncolytic virotherapy advances with Teserpaturev, receiving conditional and time-limited marketing approval in Japan5, to advances in focused ultrasound translating into clinical studies for a potential GMB treatment, which navigate the challenges of drug delivery across the blood brain barrier.
When The Right Experience Matters Most
At Cmed, we understand the specific challenges in treating and researching this population and apply our medical and operational expertise when designing and implementing our glioblastoma trials. For example, we consider the following issues with a sampling of mitigations from the clinical perspective:
The preferred imaging modality is usually MRI which isn't always available and is expensive. We recommend that imaging modalities should be considered during the design phase and should include input from regional care teams.
Maximal safe surgical resection is a key for better survival. Resection may not be possible due to the location of the tumor. This can impact available populations or tissue biopsy related endpoints.
Biopsy/minimal resection in lieu of resection (location driven). The extent of surgery (biopsy vs. resection) has been shown in a number of studies to affect length of survival.
Interstitial brachytherapy is of limited use and is rarely used.
Post-surgical hemorrhage is a very real risk. We recommend post resection MRIs to quickly identify post-surgical hemorrhage.
High recurrence rates: Median time to recurrence after standard therapy is 6.9 months.
Standard of Care is the same for methylate and unmethylated tumors, but unmethylated do not respond to temozolomide the same way. The definitions of response in protocols need to accommodate this.
Different performance expectations must be considered for newly diagnosed vs. progressed patients. These populations behave differently and have differences for response, quality of life, etc. and must be accommodated in the trial design.
For patients older than 70 years, less aggressive therapy is sometimes considered, using radiation or temozolomide alone. This can lead to differences in treatment across the study's population and stratifications may be needed during statistical analysis.
Radiotherapy and/or radiosurgery for recurrent GBM is controversial.
Pseudoprogression should be confirmed in 4-6 weeks in order to re-evaluate and adjust the patient's treatment.
Operationally, there are also some administrative and support challenges such as:
Patient accrual; GBM is still considered an orphan disease. With our experience in more than 40 orphan drug designations, we mitigate the risk of low patient accrual by implementing a number of recruitment strategies with a proven track record for success from the study start.
When TMZ is given as Standard Of Care (SOC) with experimental treatment, dosing compliance for TMZ and drug accountability can be difficult to track. We mitigate this by understanding the site SOC early in the study, during site feasibility and qualification and work with the site teams to develop and design complimentary tools or processes to collect this information.
The patient's decline, e.g., recall, fall status, and other cognitive changes are difficult for families and care teams. We see care giver mentoring and home care support being successful in this area, and support studies that use home health nurses where protocols can facilitate this and have experience developing information sheets and supportive tools for care givers.
Cmed is one of only 44 Clinical Research Organizations (CROs) that have supported glioblastoma studies.  With the Cmed team having worked in glioblastoma research for over a decade, our experts have successfully delivered 13 commercial trials in glioblastoma, including two successful FDA product approvals.
Currently our experts are supporting two early phase studies in GBM.  Both of these are ATIMP studies with the latest study, a cancer vaccine, currently in startup targeted to achieve first patient in later this year.
Key Experience in The Right Areas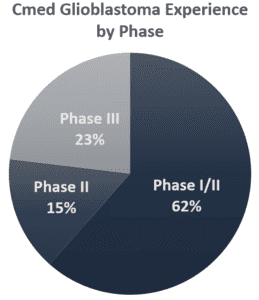 Phases I-III
13 Trials in commercial research
Newly diagnosed and progressed/recurrent populations
Product types include inhibitors, peptides, vaccines
Mono, combo, and resection inclusive trial designs
Global trials, including but not limited to
US, Austria, Canada, Czech Republic, France, Germany, Israel, Italy, Korea (Republic of), Japan, South Korea, Spain, Sweden, and Switzerland.
Trial size ranges are 1-89 sites and 30-700 patients
Cmed is a full service, global CRO. We have been approaching trials from a point of efficiency, offering greater communication, solid partnerships, and advanced technological solutions for over twenty years. With our expert team having in-depth GBM experience across all functions, let us help you find the right treatments for these patients with limited time by building success into your product or project planning.
References:
1 Hanif F, Muzaffar K, Perveen K, Malhi SM, Simjee ShU. Glioblastoma Multiforme: A Review of its Epidemiology and Pathogenesis through Clinical Presentation and Treatment. Asian Pac J Cancer Prev. 2017 Jan 1;18(1):3-9. doi: 10.22034/APJCP.2017.18.1.3. PMID: 28239999; PMCID: PMC5563115.
2 Grech N, Dalli T, Mizzi S, Meilak L, Calleja N, Zrinzo A. Rising Incidence of Glioblastoma Multiforme in a Well-Defined Population. Cureus. 2020 May 19;12(5):e8195. doi: 10.7759/cureus.8195. PMID: 32572354; PMCID: PMC7302718
3 New prognostic factors and calculators for outcome prediction in patients with recurrent glioblastoma: a pooled analysis of EORTC Brain Tumour Group phase I and II clinical trials. Thierry Gorlia, Roger Stupp, Alba. A. Brandes, Roy. R. Rampling, Pierre Fumoleau, Christian Dittrich, Mario M.Campone , Chris. C. Twelves, Eric.Raymond, Monika E. Hegi, Denis.Lacombe, Martin J. van den Bent, JCO 2011
4 University of Helsinki. Brain cancer survival has improved – but not much for elderly. Medical Xpress. 2018 October 16.
5 Daiichi-Sankyo. 2021 November 1. Daiichi Sankyo Launches DELYTACT® Oncolytic Virus G47∆ in Japan. 20211101_E.pdf (daiichisankyo.com)